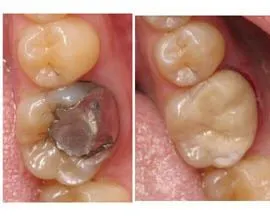 Dental Crowns and Onlays in Rockwall, TX
When a filling occupies more than 50% or more of the width of a tooth, a crown or onlay restoration is indicated. Crowns surround the tooth and brace it together, while onlays fit down inside the tooth and cover all or some to the cusps of the tooth to provide strength. Teeth with large fillings are prone to breaking and splitting because the large filling acts as a wedge and breaks the tooth. Crowns and onlays provide strength and stability that a large filling cannot provide to the tooth.
Why Might You Need a Dental Crown or Onlay?
There are many reasons why someone would come to our Rockwall, TX dentist, Dr. Laun, for a crown or onlay. Common reasons for a crown or onlay are:
The tooth has a large cavity
The tooth has a broken filling or restoration
The tooth has had a root canal
The tooth has a large weak filling
What Are Crowns and Onlays Made Of?
Crowns and onlays can be made out of different materials. Each material is indicated in different situations. These materials are:
Gold
Porcelain fused to a metal substructure
All porcelain
Porcelain fused to a non-metal substructure
If You Are In Need Of A Dental Crown Or Onlay, Call Michael A. Laun, DDS In Rockwall TX, At (972) 771-5671 Today!