Dental implants are the best long term solution to replace missing teeth in most cases. They can be used to replace a singe tooth or an entire mouth full of teeth. Implants can support a single crown, a multi-tooth bridge or even an entire denture.
The advantages of using implants to restore teeth are:
1. They cannot get cavities
2. The are self supporting (no need to prepare supporting teeth for bridges)
3. The help preserve the supporting bone around adjacent teeth
4. They are extremely versatile.
5. They are almost as good as what you were born with.
Do you have a denture that won't stay put? Wouldn't it be great if your denture didn't move? What about not having to use denture adhesive/ cream? With implants it is possible to have a rock solid denture. In some cases we can even use your existing denture and add implants underneath. Patient experience a dramatic improvement in their comfort and ability to chew. In many cases, patients comment that they can now eat what they want, anytime, anyplace.
Dental implants are titanium tooth roots that are placed into the jaw. After healing the implant can be attached to a crown, bridge or denture. Amazingly most patients have very little discomfort following implant placement. Many of our patients have commented that if they knew it was this easy, they would have done it long ago.
We work with a team of oral surgeons and periodontists to place the implants in the precise positions and restore the implants following healing. Call us today if you would like to talk a bout your dental implant options.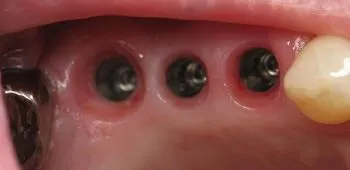 Three Crowns.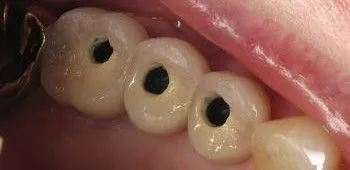 Three Crowns occlusal view.
Three Crowns Smile!